Monterey Travel and Local Tips
Sushi Bars Recommendation in Monterey County When you're out and about in Monterey and looking for a great place to try some sushi, our recommendation might come handy. Here are our top six spots to try: 1. Crystal Fish Between excellent service and out-of-the-ordinary entrees,...
The Joys of Pacific Grove Pacific Grove is among the most gorgeous cities in Monterey County, California. It's situated on the Monterey Peninsula's tip and is known for an abundance of diverse things. The coastal city is often lovingly referred to as being the "Butterfly Town". This...
Part of Shoreline Park, Perkins Park is the section of shoreline between Lovers Point and the Esplanade. It was named for local resident Hayes Perkins, who planted the first pink ice plant along this section of the waterfront. The park is well maintained and is landscaped with "magic...
Lovers Point Park is located at the foot of 17th Street, and is a landscaped community park of 4.4 acres. It is used for picnicking, fishing, swimming, water sports, and surfing. Lovers Point's amenities include a large lawn area, a beach volleyball court, a children's swimming...
The latest in the Ottone Restaurant family. A fun, contemporary California grill with stunning floor to ceiling views of the Monterey Bay. Specializing in seafood, house-made pasta and flatbread pizza.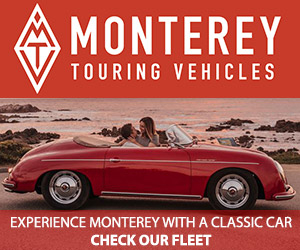 Monterey Car Week is one of the most anticipated automobile events in Monterey County, California every year. It begins on August 9th and ends on August 18th. If you're a classic car enthusiast, there is no better series of events around than Monterey Car Week. It's full of days on...
The Excitement of AT&T Pebble Beach Pro-Am AT&T Pebble Beach Pro-Am, on February 4-10, is a highly anticipated yearly event in beautiful Monterey, California. If you're a fan of PGA Golf, you can't miss out. This famed golf tournament is set to take place at the Monterey...
TREAT YOUR MOM THE MONTEREY WAY Mother's Day in Monterey is all about making mothers feel special with fantastic eats, relaxing times and memorable moments. Since it's Spring, the weather will be great for outdoor activities and morning strolls. Discover the best Mother's...
Memorial Day Weekend The Monterey Way While the flowers are blooming and sunny weather around the corner, Memorial Day weekend in Monterey is a great way to create lovely moments. Music lovers will appreciate this this long weekend through various concerts and performances. Other activities...
Showing: 21-30 of 39 records